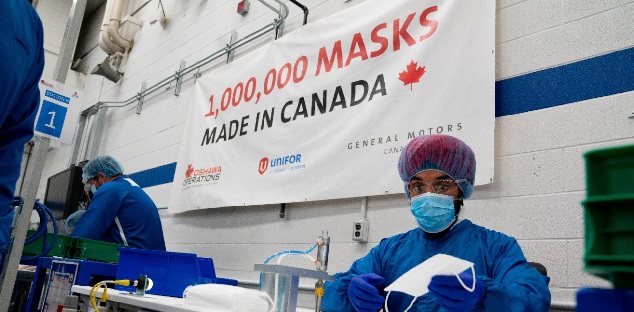 With the cold and flu season quickly approaching, a coalition of workers and unions wants to see General Motors making N95 masks at their Oshawa production site.
The Ontario Council of Hospital Unions (OCHU), Green Jobs Oshawa and the Canadian Union of Public Employees (CUPE) is calling on the federal and provincial governments to order GM to start making the respirators.
They say that, although 3M recently agreed to make N95 masks at their Brockville plant, production isn't scheduled to begin until next spring.
"We do not have enough N95 masks to meet demand and the domestic manufacturing in Ontario and Quebec is many months away from production," a statement from the coalition reads. "GM makes these masks in Michigan, has the materials, patents and a workforce on layoff. The federal and provincial government must order GM to make these masks immediately to help avoid needless suffering and loss of life."
Tiffany Balducci, Durham Region Labour Council President and organizer with Green Jobs Oshawa, says the production of non-medical masks at is a "welcome first step" but doesn't go far enough.
She says the company should use their resources to make N95 masks, which filter out more particles and are often used in health care settings or other high-risk workplaces.
"There are thousands of laid off GM and supplier workers available. There are millions of square feet available. No more delay can be tolerated," she explained.
Michael Hurley, President of OCHU/CUPE says that GM already makes N95 masks at their production facility in Warren, Michigan and already has the required patents and materials.
The group is also calling on the Canadian and Ontario governments to begin treating COVID-19 as an airborne virus.
Click here to read the group's full statement.