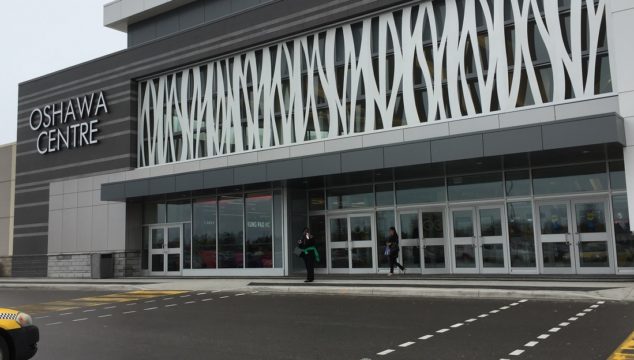 Someone working at the Oshawa Centre has tested positive for COVID-19.
It's not clear when the employee last worked or in which store.
The mall operators, Ivanhoe Cambridge, say they're unable disclose that information.
They do say the person is no longer in the mall.
Below is a statement from Ivanhoe Cambridge:
We received notification from our tenant that they followed the protocols and guidelines prescribed by the public health authorities and government of Ontario to address the situation and proceeded with a thorough cleaning of the store.
As the health and safety of our visitors, tenants and their employees is of the utmost importance, Ivanhoé Cambridge and Oshawa Centre took all necessary precautions to follow the protocols and guidelines prescribed by the public health authorities and the government of Ontario. Oshawa Centre  immediately proceeded with the thorough cleaning of all areas under the centre's control, including all common areas with the help of a cleaning contractor trained to respond to the situation. All cleaning products used complied with recommendations for COVID-19 sanitization in the workplace.
Please note that this person is no longer in the shopping centre.  Additionally, prior to being informed of this situation and on an ongoing basis, we have been and are continuing to diligently disinfect the common areas throughout the shopping centre (elevator buttons, countertops, bathrooms, entry doors, door handles, railing, handrails, etc.).  At this time, the best guidance and any specific requirements for COVID-19 mitigation and response are being provided by authorities such as the World Health Organization (WHO), and the Public Health Agency of Canada. The safety and health of our employees, tenants, customers and visitors is of the utmost importance for us.  We rely on one and all's cooperation and vigilance in order to maintain healthy and safe environments.
Should we be informed of a confirmed case at the property, we have procedures and cleaning protocols in place, which will be deployed in conjunction with directions by the public health and governmental authorities to deal with the situation appropriately and help fight the spread of the virus.