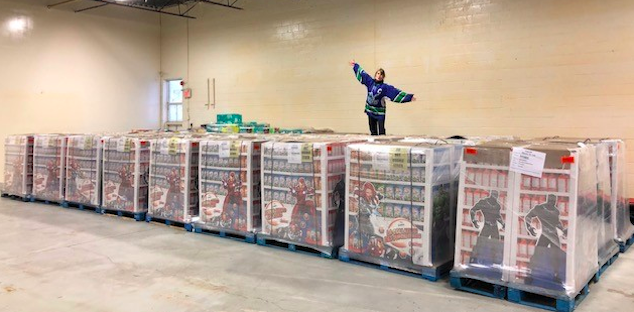 A nationally-known brand, known for their soups and crackers, has given Feed the Need in Durham their largest-ever one-time donation.
Campbells Canada has dropped off 86,940 packages of Goldfish crackers, on behalf of the Durham Crusaders U13 Green/Blue hockey team.
"Feed the Need in Durham is excited by this donation from Campbells and are grateful for the support and passion of the Durham Crusader's," said Ben Earle, Executive Director of Feed the Need in Durham. "We invite our community to rally in support of the efforts of these young players, and the team of parents that are supporting them. Our work begins with those in our community who want to do something to help their neighbours."
The team's original commitment was part of Chevrolet Canada's 'Good Deeds Cup' campaign. They decided to donate one can of soup for every hour of 'gaming,' since they weren't able to get on the ice.
A video posted to the team's Twitter caught the attention of Campbells Canada, who decided to donate in honour of the initiative.
GO BOYS!!! https://t.co/3A73jxzsGX

— FEED THE NEED IN DURHAM (@Feed_the_Need1) January 18, 2021
"We are always inspired by the ways that young people step up to do this work," concluded Earle.
The agency will be sharing the crackers with local frontline emergency food providers, in-school snack programs, charitable organizations and neighbouring emergency food hubs.
Feed the Need in Durham supports 62 local food banks, shelters and other emergency food programs.
They have seen an increased demand for donations since the start of the pandemic. To learn more, click here.
Photo courtesy of Feed the Need in Durham