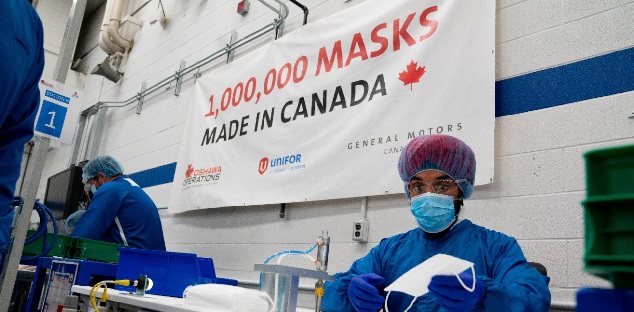 In just over six weeks of producing non-medical face masks, General Motors' Oshawa location has hit a major milestone.
The company is announcing that one-million face coverings have been produced in Oshawa since May 26.
Between April and May, the company put together a special 'Canadian Mask Making' clean room, brought in some new equipment and recalled 60 workers.
Since then, the employees have been hard at work.
GM Canada says the one-millionth mask is just the beginning, with an ultimate goal of 10-million masks.
"Thank you to our government for their leadership and partnership as we work towards producing 10 million masks," said Scott Bell, GM Canada president and managing director. "Today marks a significant milestone and we're proud to do our part to help keep Canadians safer."
Federal Minister of Industry, Science and Innovation, Navdeep Bains, applauded the company's effort.
"GM Canada is one of the Canadian companies that have mobilized to develop made-in-Canada solutions to help our health care system," said Bains.
"On behalf of the Government of Canada, I would like to thank GM Canada for joining the collective effort to fight COVID-19."
Unifor National President Jerry Dias also congratulated the workers, saying his union's members are always "ready to step up and help manufacture whatever supplies our country needs to fight COVID-19."
Photos courtesy of General Motors Canada