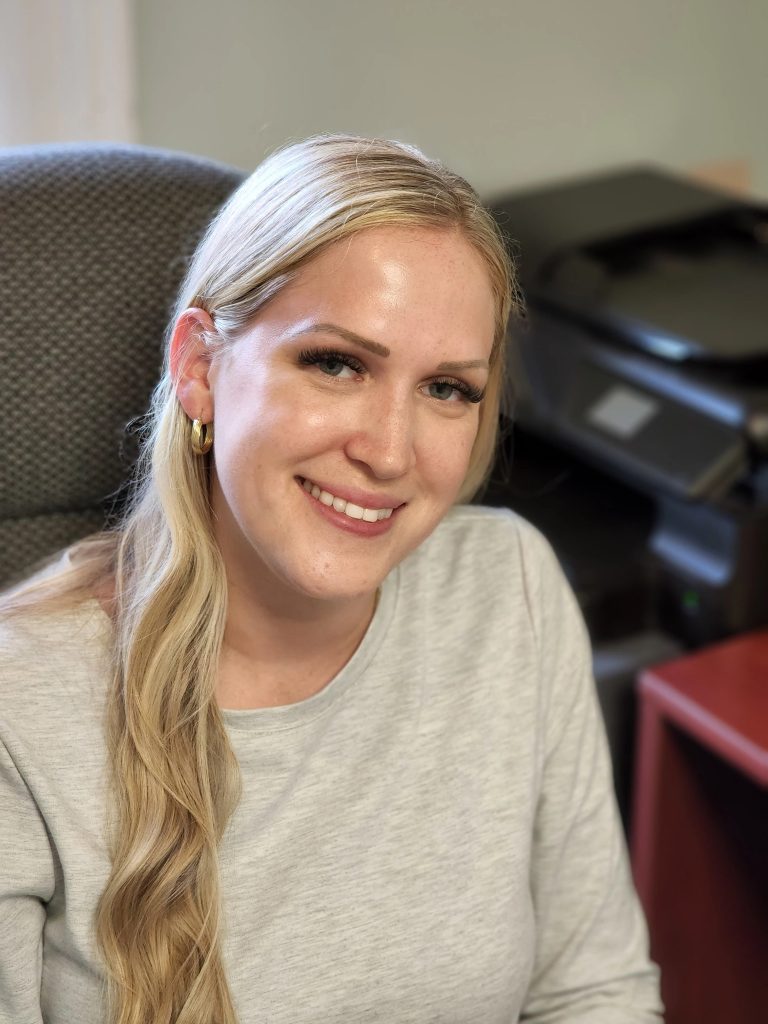 On Tuesday July 5,2022, I met the Director of Simcoe Hall, Emily Witlarge in her beautiful office at the top floor of the administrative building.
Emily enjoys spending time in nature, taking walks or engaging in outdoor activities. She is also an avid reader and so passionate about fitness. She lifts weights, run, and she has spent 6 years practicing Muay Thai, a combat boxing
She appreciates so much of what the community offers and, in her words, Oshawa and the Broader Durham Region is filled with amazing people who care about one another and there's always something fun happening nearby. She acknowledged that Durham region have a fantastic blend of natural green space, a variety of restaurants, and independently owned businesses.
Furthermore, my questions to her were centered on a non-profit organization such as Simcoe Hall, that has been in existence since 1935 and to know more about her role in keeping and running of Simcoe Hall, while giving hope to the community they served.Our 45mins interview was impacted and filled with golden nuggets for everyone in Durham region.This is the non-profit organization edition; I am proud to present Simcoe Hall…
Simcoe Hall, Durham Best Kept Secret!
A non-profit making organization filled with loads of good ideas, activities and foods, that not many people know about.
Small but mighty impact!
Durham Originals
Is all about the people, businesses and non-profit organizations whose stories we tell, because they impact us positively and as we are inspired to be like, or do better than them, yet keeping us involved in the community
Simcoe Hall
Simcoe Hall was founded by Members of the Women's Welfare League in 1935, It was tagged settlement house and inspired by the need to create a Neighborhood House for less advantaged children and families.
As its popularity grew in North America, it became a campaign geared towards changing the lives of families and children in less advantaged communities by providing practical, essential supportive services. Simcoe Hall Settlement House is one of approximately 32 original and known to still be active
Members of the Women's Welfare League have been responsible for the birth of popular non-profit organizations in our community, to name a few
Big sisters and Big brother
Introduced a boy's scout program to children
Began RCMP youth and police program
Opened the first nursery school in Oshawa to advance early childhood education
And much more…
A community within itself, helping other members of the community alike.Simcoe Hall has been in the same location since its birth, have since expanded to have a back building with a standard gym, thanks to volunteers and sponsors 
There are three main categories of Simcoe Hall with seasonal activities, namely;
Senior'sbenefit: Having a space to meet and greet other members of the community, and where hot meals made by inhouse cook are served in addition to loot bags containing personal supplies which the seniors can take home.
Food Bank Program: This program is for anyone who needs help with food and the only requirement for such, is to show proof of ID and income. However, Emily said no one is ever turned away.
After-School Program:  As the name suggests, this program is geared towards school children whose parents need that extra help with hot meals for their children and a place to stay for few more hours before pickup.
This is the program which gave birth to the backpack program for students of all grades, who might need help with school supplies including a backpack.
Registration is free and open now!
Online www.simcoehall.com
Seasonal activities are basically for the youths and with special considerations on things to do in the fall and during certain calendar celebrations that occur once every year such as Christmas, youth night, competitions and games.
NB; I have posted an unedited audio version, of my interview with Emily on www.durhamoriginals.ca website.
You are welcome to join in the conversation and to let Emily Witlarge tell you, more about all the great things Simcoe Hall is about and why your support is needed now.
After the interview, Emily took me around the two buildings where I got to see the very noticeable Red double door, which serves as the drop off center for donations.
I saw the full functioning gym, and as I went upstairs, I met with the staff of different programs at Simcoe Hall and saw different rooms used for the summer camp.
We ended our tour by going through the storage area where the food, perishable and non-perishable items were stored.I met two volunteers andI must mention that,at the time of my interview with Emily, the Foodbank was giving food away to members of the community, as they stood orderly in line.
And when asked, what Emily would like to see happen over the next 12 months that improves/benefits the community, she responded saying she would like to see more intentional efforts, resources and strategies put forward to support those who are experiencing poverty, homelessness or struggling to make ends meet.
And as the cost of living continues to rise, more and more people are finding themselves in very uncomfortable and sometimes, dire situations and that we need to look at all of the factors that contribute to a compromised quality of life including but not limited to food security, mental health support, fair wages, and reasonable living expenses.
Like many others impacted by the pandemic, we were forced to rethink this new normal and what it should look like going forward…Emily Witlarge
Durham Originals it's all about;
-The community
-The conversation
-Your input
Let's share stories of people in our community, who continue to give back to the society.
Let's give a round of applause to businesses in our community, that standout in keeping the community together.
And let's throw our weight and support behind the non-profit organization amongst us.
And Durham Originals is there to tell their stories.
Join the conversation online by going to www.durhamoriginals.ca
For more on my interview with Emily, check us out on all our social media pages.
Until next time, when I bring you another great original story, please stay safe and stay tuned.
Your famous girl Bukky Ojo