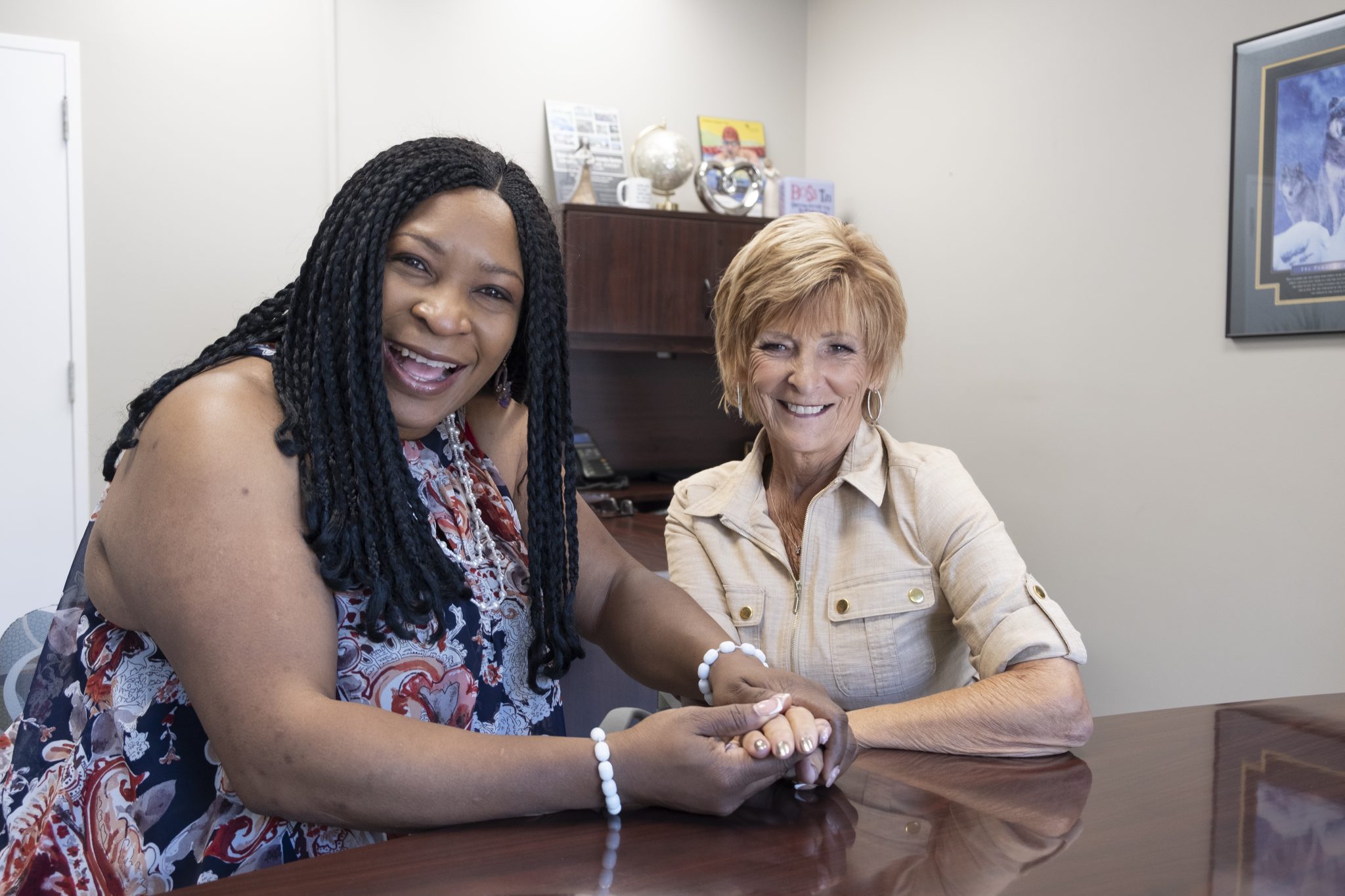 Home Away From Home The OSCC55+ Center
The Oshawa Senior Community Centres (OSCC55+)
An active living centres for Seniors 55+ located in Oshawa, Ontario.
The center has been helping adults aged fifty-five plus improve their quality of life through excellence in programs and services since 1968.
Currently OSCC has five branches of the Oshawa Seniors Community Centres, and they are situated on treaty land that is steeped in rich Indigenous history and is the present-day home to many First Nations, Metis and Inuit people.
OSCC boast of four vans that is used to pick-up and drop off seniors that need help getting to and from home, for the day programs. The day program has thousands of seniors overtime attend as it also serves the dementia and Alzheimer's clients. We also do foot care Dandy said and we have a full lineup of recreation and leisure programs, but we also do health care physio and falls prevention, a hot meal is served every day at noon with an exception to Sunday, an impressive array of 300+ volunteers and dedicated qualified workers whom most have been working st the OSCC for many years
OSCC as a Durham Original
As I listened to Sandy speak, I considered my old age and wonder what it would look like, would there be continued support and would it evolve overtime.
Let me quote Sandy…
For so many of our seniors this is more than a recreation center. it is more than a community center to come and play cards, for them, it is a home away from home.
For so many of the seniors that come here, they're coming with challenges that they've experienced in their life, perhaps loss of a spouse, loss of financial stability, any type of loss that they've experienced and when they come here, they meet with others who have experienced that same loss. So, they have so much in common with the people that they're meeting here every day. And it gives them a sense of comfort. And I think a sense of understanding because they've walked in their shoes. For we the staffs and volunteers it's great, you know, for us to serve seniors because its from our heart, there isn't a person that I work with, that doesn't feel that this is more than a job, rather it's really a calling. And what we do is we provide value to seniors, even though our staff are very aware of that greater need that we serve. I think for seniors, it just feels so much better when it comes from one of theirs, you know, another senior!
We could talk about the impact of covid 19 as most people already know, I would like to focus more on how we survived the impact
Within a very short while of everything shutting down, we had to start offering our day program classes online and as that was a major challenge for seniors who were not computer or tech savvy, our staff worked with many seniors to use the computer to face time, send messages to loved ones, and participate in the online day programs. The attendance each combined saw well over 150 seniors online a skill most are still using to date.
we changed our business and picked up groceries, delivered frozen meals, transported seniors to vaccination sites, that kind of thing.
How long do they usually would stay in the center?
Six hours she answered
Six?
Yes, they are here six hours. So, you'll often see them in this building, for example, you might see them downstairs playing shuffleboard, you might see them in the billiards room shooting pool, or throwing darts you may see them in the cafeteria having coffee and a muffin with their hot meal at noon. There's something for everyone truly a space to bring in all seniors
Executive Director OSCC Sandra Black
Right from the hello and a warm hand shake we shared, I took in the simplicity of the executive director of OSCC Sandra Black fondly called Sandy by all, she was wearing a well tailored creamy brown dress and a beautiful high hill shoes designed with nice stones what truly got my attention is the silver color of her nails shinning from a distance, I could tell that she was a senior herself yet young at heart with a lot of heart for what she does.
A proud mother 3 and grandmother of 7 also a wife to her best friend, her husband of 46 years, she said to me if you don't find me working, then I am with my grandchildren 100%. Her eldest granddaughter is starting high school this September, very excited for her. Her name is Susan Joyce.
She started with the City of Oshawa in 1984, as a part time employee in the area of aquatics, a lifeguard and swimming instructor, started supervising aquatics outdoor, like the pools, the beach, more than one facility. Then she became a full-time coordinator at Donovan Recreation Complex. After that, she sat on the design team for the new South Oshawa Community Center down on Cedar and eventually was a supervisor there. And then one of her managers Mr. Larry Bryant, retired she became the manager of four recreation centers, the Civic Auditorium complex. The South Oshawa Community Center Northview Community Center and the Arts Resource Center.
The universe often knows better than we, where we belong, she said
I agree!
She loves aquatics, it'll always be a part of her yet her heart is here, working with seniors.
500 volunteers, worked pre covid now they are down to 300, post covid, " it's time to rebuild we are rebuilding." What I found impressive was the partnership between the staff and the volunteers was so easy. They work together respectfully.
To be a member of the OSCC it would cost you only $22/year and most of the programs are heavily subsidized
What do you have in the pipeline that is coming soon?
Well, what I would like to do is direct you to our website www.oscc.ca
If you go to the website, we just released our fall activity guide, you are going to see so many programs, services, special events that we didn't run for so many years because of COVID and we're just bringing all of those back as a matter of fact, we are all looking forward to the New Year's Eve party which we haven't done for two years and we're so excited, it's been a long-time seeing seniors dress up for an event
Starting in the fall September 6 2022, we are going to be open here Monday to Friday evening till eight o'clock, and we'll be open Saturdays also from 8:30am to 4pm
We're funded by the City of Oshawa; we apply for a grant every year as an external agency and not for profit agency. We are funded by Ontario Health east, which used to be the Central East local health integrated network. And what they fund is our finance, transportation or foot care or adult day programs are focusing on falls prevention. And there's also something called peer mentoring, which means and this is also a really important service we're funded for, when seniors come in and they have a need like financial aid, they're looking for housing, maybe they have mental health issues, maybe they're struggling with depression, whatever they need, and that peer mentor, we then connect them to whatever agency they need to help them, we're also funded by the seniors Active Living Centers, which is Ministry of seniors affairs and accessibility and they found our five branches. So, you know, you know how they say it takes a village. Well, truthfully in this organization, it has taken a village to make sure that we serve seniors well. So throughout both municipal provincial and federal funding, I think we've just hit the nail on the head.
Sandy's advice
I think for me, it's all about serving others, being respectful and listening. Always listen to people put a smile on your face. When they walk in. Treat them like they're walking into your home, make them feel welcomed and show them that you care. Take time to give them time. I mean, that's the most precious thing we can give anyone is our time. And I think especially for serving seniors, which is I believe my calling. When you serve seniors, so many seniors feel like they're not listened to or their time has passed, and they're discarded in this society. So, I think you know, if I could pass on some wisdom, that maybe I've learned by serving seniors is remember, you know, they contributed to society for so many years. And they have so many skills and their soul hasn't changed who they are hasn't changed. So, remember, they're very special and they still feel like they're that person. So don't forget that.
OSCC Success story
we have a lady here. Her name is Adrienne and she used to tour with the Phil harmonic Orchestra. I think in New York City.
She sang opera and she's in our choir here. She is in her 90s She lives at Parkview. At a Christmas dinner, the choir sang then she sang a solo. If you close your eyes, you would not believe this person was a senior let alone in her 90s
 Wow! I exclaimed
her voice would melt any ice. One day I heard on the radio about a senior living in  a long term care home dealing with depression and he wasn't getting out of bed and he was losing weight. They found out that he used to play trumpet in a band for many years, they also found some if his former band members were still alive to encourage him to play and entertain the residents. The change in him was phenomenal. So, I called media to interviewed her, a special about her on TV that's why I mentioned about their soul not changing and who they are, you know the exterior changes the physical changes, but the heart and soul of them doesn't.
Passing the touch
What would it take for you to retire
I will like this place to return back to his former glory pre covid, I will like seniors to start trusting themselves again to socialize by getting out more and being part of activities and our day program, I will like to increase our membership and continue our online programs.
We are currently calling out to seniors age 55+ and we are aware that some of them are still working, we want them! The OSCC is for all seniors even those working, babysitting or self dependent. I will like to change the narrative that only the feeble and weak needs the center, as that narrative is not what our beliefs are here at the OSCC. Lots of things to do here, down in the basement we have the billiards room, computer room, theater room with stage, much more.
OSCC is truly a home away from home
I am your famous girl Bukky Ojo, I am a Publicist, I revel with my pen, I like telling stories, 
Your story!
I give your audience a first inside look to what is happening in many words they can relate to
I am on many platforms such as…
It would be my pleasure to attend your event to gather highlights with pictures and videos then write about it and help you share it to your perfect audience, family and friends
So, either you are having a conference, business summit or more social events like birthdays or political and or religious gathering, I have a platform just tailored for you 
I can be reached with all my contact details on www.bukkyojo.com looking forward to telling your stories
Thank you