---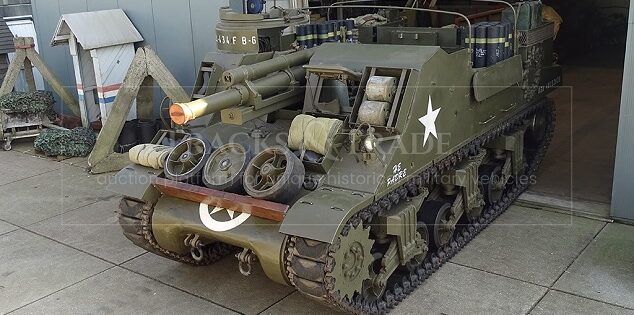 Visitors to the Ontario Regiment R.C.A.C Museum in Oshawa will soon be able to get a look at a very rare piece of military equipment.
The museum has acquired a WWII Howitzer Motor Carriage M7B1, better known as the M7 "Priest."
The rare tank arrived in Canada this week after being restored in the Netherlands and will be in Oshawa shortly.
More than 4,000 M7 Priests were built in the U.S. between April 1942 and the end of WWII and they were used by the Americans, British, Canadians and the Free French.
"Many Canadians landed on Juno Beach in these vehicles during the Second World War," commented Jeremy Neal Blowers, Executive Director of the Museum; "The 12th, 13th, and 14th Field Regiments of the 3rd Canadian Infantry Division landed with their Priests on D-Day. The Canadians later modified many of their Priests into one of the first Armoured Personnel Carriers – the Kangaroo."
After the war, this tank was used by the U.S. Army in Korea and then by the French and West German armies until 1965. The tank was rescued from a German scrapyard in 2005 and restoration was completed in 2014.
The tank went up for auction in the Netherlands and was bought by the museum with the generous support of The Dunkley Charitable Foundation. The foundation commissioned a new display for the tank museum, which will show the M7 Priest along with the story of the vehicle (and later Kangaroos) in Canadian service. The display will be revealed during a special ceremony December 3.
Photo courtesy of the Ontario Regiment RCAC Museum